The Collaged Landscape
BRICK BAY FOLLY
The traditional folly has an intrinsic link to the landscape. Built with no function other than decoration, the folly aims to accent the surrounding landscape, sitting in its immediate context as an ornament. Traditional follies built in the English countryside were designed to appear as "new ruins" – fakeries of ancient Roman and Greek temples, aiming to appear as if they had been there forever.

This proposal sits between the object as an ornament in the landscape, as well as an ode to the landscape. Overlaying varying elements create playful and unexpected juxtapositions between natural and synthetic landscapes. This is emphasised in both plan and elevation through the varying surface conditions; the existing grass intersecting with painted gravel and planted patches; the clear tubes capped in yellow, framing and morphing the landscape beyond.

The transparent columns are a subverted reference to the classical elements of the traditional folly, repeated along the terrain. The folding form of the columns both respect and ignores the landscape – folding in on itself to capture pockets of both the real and fake context. The folly sits on a single datum; as the landscape falls away, the folly stands tall above it, oblivious in elevation, sympathetic in plan.

Materiality


The folly is constructed out of three key materials: transparent plastic tubes, rebar and timber poles. The timber poles, located at the ends of the tubes are painted in Resene Bright Spark yellow, and act as a frame, harmonising with the greens of the surrounding foliage. The varying synthetic surface conditions are also broken into three key materials: light planting of grasses and flaxes, untreated gravel, and gravel painted with Resene Tennis Court Coating Dark Blue. The use of blue and yellows in this project are important as they contrast against one another whilst harmonising with the surrounding landscape, further blending the folly into its context and simultaneously allowing it to read as an object within the landscape.

Construction and Re-use

Construction of the folly would predominately be done off-site. The columns are a modular form, which can be assembled and transported to site. They are light-weight and at a manageable scale to be carried, so no special machinery or site access would be required. Piles would need to be dug for the rebar to sit in, and then the columns can be slotted on top of the rebar. The materials used in this project are all recyclable or re-useable. The plastic tubes are not cut or altered from their standard manufactured state, so could be on-sold, re-used or recycled. The rebar can be re-distributed in a similar fashion. There is no bending or negative effect on their structural integrity, so again could easily be reused or repurposed.

Words by — William Brooks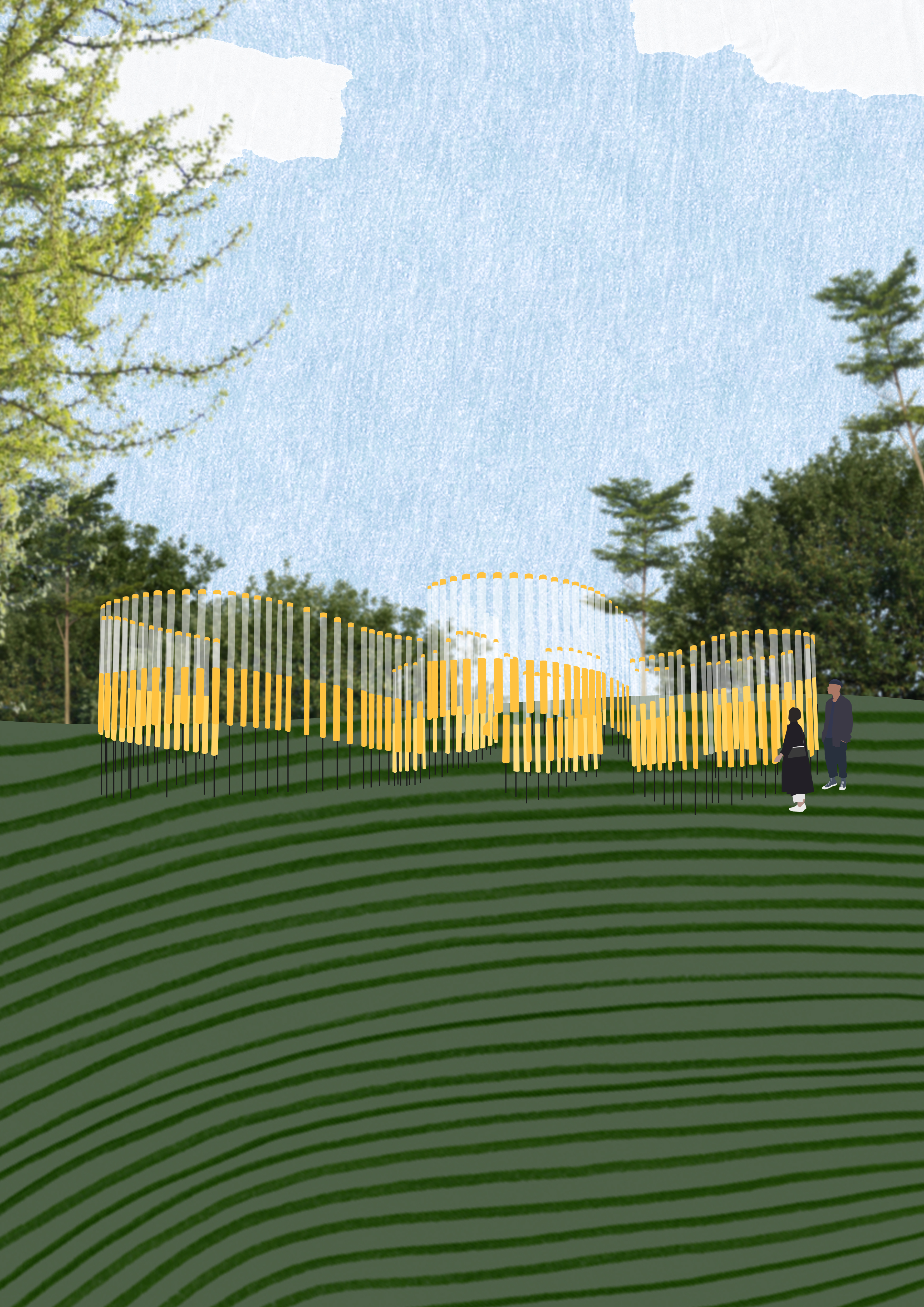 1